The family of slain police officer Brett Forte broke down as they saw footage of the moments leading up to his death played in court.
Gunman Rick Maddison was seen unloading a magazine of bullets into the police car on May 27 2017 in footage played to the
Toowoomba
court today – the first day of an inquest into Senior Constable Forte's death .
Mr Forte's wife, father and mother were inside the courtroom and were all forced to relive the moment their world changed.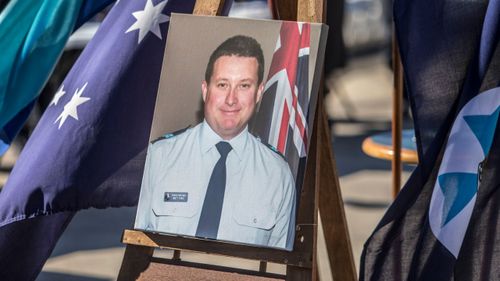 The dashcam video and radio calls from the day show police pursuing the wanted man before eventually heading down a dirt road outside Toowoomba.
Maddison got out of his vehicle before he used an automatic weapon to open fire into officer Mr Forte's squad car, even reloading his gun at one point.
The harrowing police radio recording then picked up Mr Forte's partner yelling, "we're sitting ducks".
"Urgent, gunfire, urgent, gunfire," another officer said.
Bleeding out, Senior Constable Forte managed to back the vehicle away – rolling down an embankment to get his partner to safety.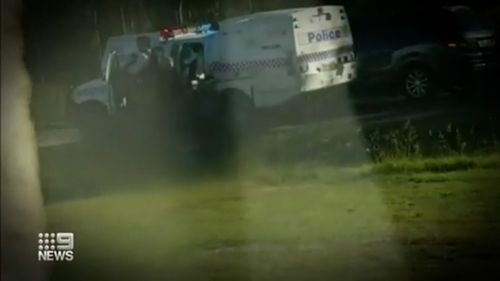 It was his final heroic act. Two minutes later, the two bullet wounds he sustained killed him.
Queensland Police Union President Ian Leavers had difficulty watching the graphic footage.
"It was extremely difficult and confronting watching the dashcam video where we saw the final moments of Brett's life," Mr Leavers said.
A 20-hour siege followed Mr Forte's death. Maddison was shot dead by a heavily armed response team.
Those specialist officers will be among 30 witnesses called upon to give evidence throughout the two-week inquest.
Inspecting Officer, Detective Senior Sergeant Fiona Hinshelwood, defended the pursuit of Maddison.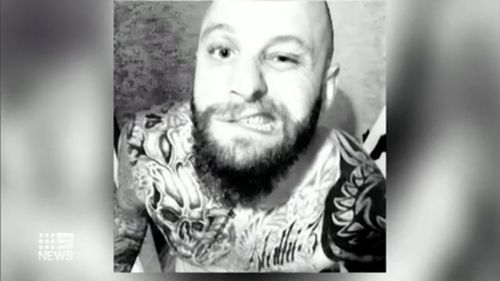 Mr Forte's widow's solicitor demanded to know why police were not told there was a chance Maddison was heavily armed, particularly given he had a history of violence and weapon possession.
In talking to Maddison's violent tendencies, police said Maddison had poured petrol ona woman and brandished a pirate-like weapon in another domestic-violence related incident.


This content first appear on 9news