Hello and welcome to today's coronavirus coverage. I'm Kate Lyons and I'll be kicking things off.
Today we start with some concerning news from Asia, where various countries are looking at fears of a fourth wave of the virus.
South Korea will reimpose a ban on nightclubs, karaoke bars and other nightly entertainment facilities, authorities said on Friday, after the number of new coronavirus cases surged.
"Signs of a fourth wave of epidemics that we had so striven to head off are drawing nearer and becoming stronger," Chung told a daily meeting on the pandemic.
Prime Minister Chung Sye-kyun announced the curbs, which take effect on Monday for three weeks, after daily new case counts climbed to a three-month high in recent days.
The Korea Disease Control and Prevention Agency (KDCA) reported 671 new cases for Thursday, a day after the daily tally hit the highest level since early January, with clusters developing from churches, bars and gyms, mostly in the greater Seoul area.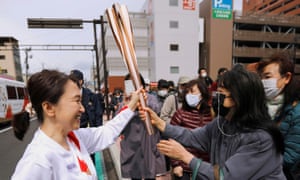 Meanwhile in Japan, Tokyo has asked Japan's central government for permission to implement emergency measures to curb a surge in a rapidly spreading and more contagious coronavirus variant, just over three months before the start of the Olympics.
Tokyo's step follows Osaka in western Japan, which declared a medical emergency after its hospitals became overwhelmed with new cases.
Tokyo, which only came out of a state of emergency on 21 March, reported 545 cases on Thursday. Koike said she is alarmed by the rapid spread of the new variants, especially one initially detected in Britain.
"It would be a matter of time before Tokyo faces a situation similar to Osaka," Koike said.