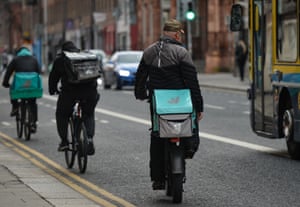 Deliveroo shares have opened slightly higher on the first day of unconditional trading, as retail investors were allowed to take part for the first time.
Shares are up 3.5% at 289p each, but roughly 25% below the initial IPO price of 390p each.
Overnight, the FT reported that Deliveroo's underwriters Goldman Sachs ended up picking up around £75m worth of stock following last week's flopped IPO.
A number of institutional investors refused to take part in Deliveroo's IPO, with some citing ethical concerns about working conditions for riders who not entitled to earn a minimum wage, holiday or sick pay.
Those concerns are being highlighted in a Deliveroo rider strike today.
Hundreds" of Deliveroo riders from the Independent Workers' Union of Great Britain (IWGB) are expected to hold socially distanced protests in London, York, Sheffield, Reading and Wolverhampton on Wednesday, the union said.
They're demanding fairer firing policies, better pay, and health and safety protection for riders.