Celebrated Australian fashion designer Carla Zampatti has died a week after falling down stairs at Mrs Macquarie Point in Sydney.
Zampatti, 78, was attending the gala premiere of La Traviata on Sydney Harbour last Friday, March 27, when she fell on the bottom two steps of a staircase and hit her head.
She was treated by a trained lifeguard from Opera Australia before paramedics arrived.
A pioneer in the Australian fashion industry, Zampatti created her own eponymous label in 1965.
Since then, the list of those who donned her designs include Cate Blanchett, Nicole Kidman, Princess Mary of Denmark, Dame Quentin Bryce, former Australian Prime Minister Julia Gillard and NSW Premier Gladys Berejiklian.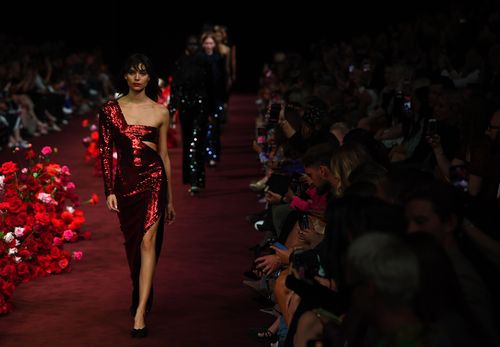 In a statement confirmed her death, media spokesperson Kellie Hush described her as "Australia's most successful and enduring fashion designer" and a "champion of Australian women".
"She continued to thrive as a businesswoman through enormous radical and social change, designing clothes for women fighting for liberation through the women's rights movement in the 1960s to empowering women today in leadership, the workplace, in their home and at major life events," the statement read.
Opera Australia has also released a statement saying it is "deeply saddened" by Zampatti's death and describing her as "an Australian fashion icon and a passionate supporter of the arts".
Prime Minister Scott Morrison has paid tribute to Zampatti as "a very kind, strong, elegant and sincere woman" who "was an icon to the fashion industry, a pioneer as an entrepreneur and a champion of multicultural Australia".
NSW Premier Gladys Berejiklian also paid tribute to the fashion icon on Twitter, describing her as "talented, generous and inspiring".
"The world will never be the same without Carla Zampatti… A true trailblazer in every respect," the premier wrote.
Zampatti is survived by her three children – Alexander Schuman, Bianca Spender and Allegra Spender – and nine grandchildren.
A condolence page
has been set up
, with tributes already flowing in from friends, fans and clients.


This content first appear on 9news