Traditional real estate management systems are difficult to maintain and upgrade. In order to keep up with the dynamic landscapes of commercial real estate, it is essential to make use of the best that technology has to offer.  So what is the best that technology has to offer?
Citizen development and no-code platforms.
The one thing that traditional real estate management systems lack is their ability to customise an application. Real estate companies cannot afford such compromises considering the new set of challenges placed on landlords and tenants during the pandemic and especially at a time where competition is at its peak.
In order to thrive, real estate companies need to adopt no-code platforms to efficiently manage different aspects such as marketing, leasing, properties, tenants, and investments.
No-code offers development platforms and tools to create new applications without the need for a single line of code. These platforms use a combination of drag and drop graphical interfaces and templates to enable non-IT professionals to create and optimise an application.
These no-code applications are highly customisable and can be updated with just a few clicks.
You don't need a four-year computer science degree or a professional to use these tools. Your imagination is all that is needed to build the necessary administrative and operational apps.
The best part?
No-code apps are built based on existing spreadsheets and databases. They provide speed and flexibility for your real estate or property management business at the fraction of the cost of traditional digital solutions.
Also Read: How today's fast-growing companies can solve the real estate problem
At the same time, no-code apps can also be key to improving customer experience and nurturing long-lasting relations with your clients.  Whether you're a solo real estate agent or are running an agency, no-code apps can be a game-changer when it comes to your operations.
The role of no-code in real estate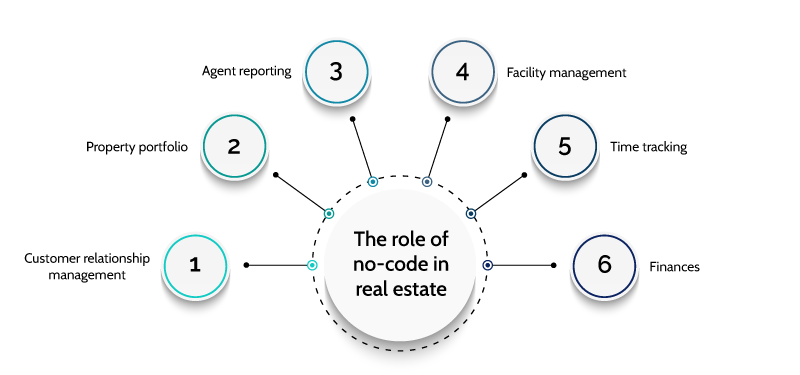 Agents can plan their next customer acquisition strategy with advanced reports and dashboards. With better and smarter forms, automated alerts, notifications, and reminders, No-code apps provide quick and easy access to information. Agents can collaborate with contractors, clients, and their real estate team, all at the same time.
Property portfolio 
Instead of storing each entry in complex databases, real estate agents can safely connect the necessary data to a no-code application which creates a list of the properties they are currently working with. By having immediate access to information such as a map, costs, facilities, power, and more, real estate agents can increase productivity and improve customer relations by providing a seamless experience.
Agent reporting 
It is difficult for all agents of a real estate firm to be up to date with an overview of each person's work. The only simple solution in this scenario is to use a dashboard to keep track of each and every agent's reporting, clients, and the status of each client.
With a no-code app, agents get instant access to deals closed, properties in progress, and much more. This saves time and provides ideas for new strategies to boost real estate agent performance.
Facility management 
From monitoring cleaning to conducting checks and keeping track of excel files, no-code apps let agents store and review all data on one screen. All relevant information about the maintenance of different properties stored on a single platform will help to avoid misunderstands and increases performance in real estate management.
Time tracking 
Filling endless time sheets at the end of the month is inconvenient and time-consuming. No-code platforms allow each employee to enter the hours they have worked for different clients from a few clicks on their phone. Activities can also be divided into different categories for better organisation. The time saved on documentation can have a positive effect on the customer experience and the performance of the agency.
Also Read: From brick-and-mortar to e-commerce in just 7 steps and no-code
Finances 
Real estate agents can handle the process of preparing quotes and offers for customers by setting up a no-code app. The Low-code app also makes use of formulas to calculate quotes on the basis of the numbers provided. This makes it much easier and faster to deliver offers to leads and clients.
Real estate agencies can get rid of inefficient excel based budget spreadsheets and can automate the budget approval process, and track employee use of financial resources. Through a custom dashboard with the reports and charts, agents can gain insights needed for efficient tracking and decision making.
How no-code platforms have helped the real estate industry
Quixy helps Assetmonk cut-down overall application processing time by 70 per cent
Investor management and tracking of investment applications manually were tough tasks for Assetmonk as the company grew.  In turn, Assetmonk faced higher costs, slower investor conversions, and a loss of competitive edge.
The Assetmonk team implemented a no-code platform known as Quixy,  to automate their end-to-end customer on-boarding processes spanning upload, review, and approval of application and payment processing. Customers were able to submit their applications and upload their documents from phone, tablet, or computer.
Once submitted, the backend team was automatically notified to process the application through the verification and approval steps. Customers had one-touch access to their application status without having to make any calls.
With Quixy, Assetmonk was able to cut down the overall application processing time by 70 per cent, resource cost for on-field executives by 80 per cent while also enhancing customer experience.
Isola Homes builds a better world through Quick Base
Seattle-based Isola Homes was in desperate need of a system that could manage all the deadlines, materials, and resources for the 130 construction projects it runs annually. With such a large number of projects, it was hard to keep track of the innumerable spreadsheets and custom databases.
Quick Base built an application as a solution for Isola Homes to keep up to speed and to manage manager key processes of construction management. The no-code application enabled Isola Homes to streamline its document creation and signature tracking processes through integration.
By consolidating paper-based processes into one web app that can be shared with clients and vendors, Isola Homes delivers a world-class experience to everyone with whom it does business.
Mendix uses low-code to turn real estate portfolios into "smart buildings"
Mendix, a Siemens business and global leader in low-code application development for the enterprise, assisted a Netherlands-based "smart building" solutions provider, called Octo to digitally enable remote building management and inspections for real estate managers and property owners.
Octo's solution integrates data sourced from the internet of things (IoT) sensors, artificial intelligence (AI), and drone imaging technology to conduct asset management, digital inspections, and predictive building maintenance. This application has enables customers to manage thousands of buildings.
Also Read: How no-code development for startups is a launchpad to success
Their most recent offering is a COVID-19-related application called HeadsUpp. The reservation and notification app enables building and office managers to monitor indoor occupancy levels and maintain social distancing for companies seeking to reopen facilities after pandemic-related lockdowns.
–
Editor's note: e27 aims to foster thought leadership by publishing contributions from the community. Become a thought leader in the community and share your opinions or ideas and earn a byline by submitting a post.
Join our e27 Telegram group, FB community or like the e27 Facebook page
Image credit: Tierra Mallorca on Unsplash
The post How no-code platforms are providing a boost to the real estate industry appeared first on e27.