Prime Minister
Scott Morrison
has received his second dose of the Pfizer
coronavirus
vaccine at a Sydney medical centre this morning while slamming "misinformation" about the vaccinations.
Mr Morrison said the government would be ramping up its messaging around false information regarding the vaccines.
"Don't go to doctor Google, don't go to doctor Facebook, where people can have an opinion but have no responsibility.
"Listen to the experts," he said.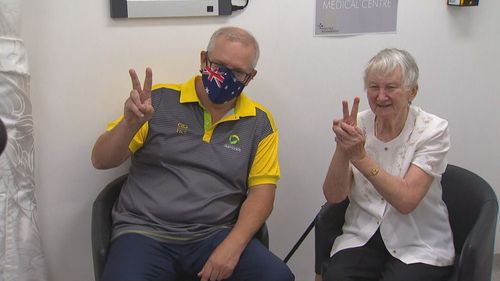 Health Department Secretary Brendan Murphy said there was no legitimacy to concerns around the AstraZeneca and Pfizer vaccines.
"Both vaccines, on the real world data are equally efficacious.
"They are both very good vaccines that prevent disease.
"I want to kill of any speculation one is better than the other," he said.
As he received the second dose of the Pfizer vaccine, the Prime Minister donned the same Australian flag-themed face mask he wore when he became one of the first people in Australia to receive the jab at the Castle Hill clinic on February 21.
Mr Morrison lauded the "smooth hands" of the nurse who gave him the shot after receiving his second dose.
It comes as the government faces mounting pressure over delays to the nation's vaccination program after a range of disruptions, but the Prime Minister and Dr Murphy said all Australians could have received their first dose by October.
So far, roughly 150,000 COVID-19 doses have been administered, well short of predictions.
Mr Morrison said Australia had originally expected to receive 3.8 million AstraZeneca doses from the European Union, but had so far received just 700,000.


This content first appear on 9news