Support is growing behind a new Australian movement against gendered violence, following recent allegations of sexual assault by members of Parliament.
Protesters will dress head-to-toe in black, brandish signs and listen to speakers calling for swift action towards gender equality.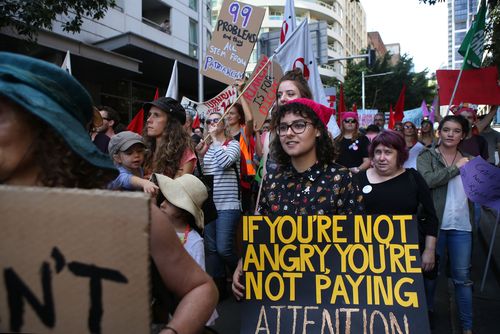 Among those scheduled to speak at the rally in Canberra are ACTU Secretary and outspoken political activist Sally McManus, Aboriginal research scholar Dr Tjanara Goreng Goreng and Saxon Mullins, the complainant in the highly-publicised rape trial of Luke Lazarus.
Ms Mullins subsequently became a key figure in the NSW government's 2018 move to review the state's sexual assault consent laws.
The new Australian campaign, named Women's March 4 Justice, has already amassed tens of thousands of members since its
Facebook page
was set up less than two weeks ago.
The private page already has over 30,000 members, while their Twitter account has more than 9000 followers.
Rallies are also set to be held in all state's capital cities, as well as many regional centres including Wangaratta in Victoria and Lismore, Bega and Byron Bay in NSW.
The organisers are calling for sweeping action to stamp out sexual assault, with a long list of agendas including ensuring police investigations into all sexual assault allegations by members of Parliament, a federal ICAC investigation and an independent review by the High Court of Australia into gendered violence within Australia's parliaments.
They are also calling for mandatory gendered violence and sexual assault training for all federal MPs and their staff, the enactment of a federal Gender Equality Act and more government funding for gendered violence.
According to the page, March 4 Justice was established to "protest the Australian Parliament's ongoing abuse and discrimination of women".
"Women have been struggling for our rights alone for too long, and enough is enough. We believe by being inclusive and all genders working together, we can achieve more," the group ethos states.
The page states the group plans to a march on Parliament House in Canberra to "voice our anger at the Parliament's ongoing arrogance in relation to their voices and rights to equality in Australia".
"This is the first step, March 4 Justice will not end, we will be heard, we will make a change," it reads.
A fundraising page set up to support the marches has so far raised over $60,000.


This content first appear on 9news