Authorities and organisers have praised the community for "peacefully celebrating" this year's Sydney Gay and Lesbian
Mardi Gras
.
Over 36,000 spectators packed into the Sydney Cricket Ground last night for the official parade — a ticketed and socially distanced event this year due to
coronavirus
restrictions.
Crowds cheered on 5,000 participants who marched on the field across 120 LGBTQI+ community groups as well as a live musical performances.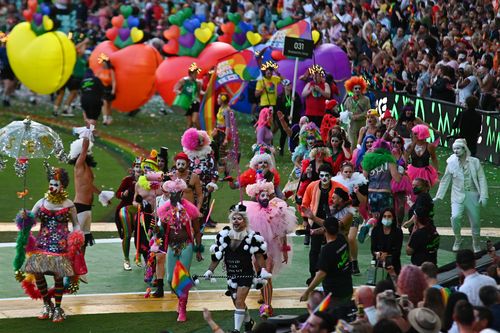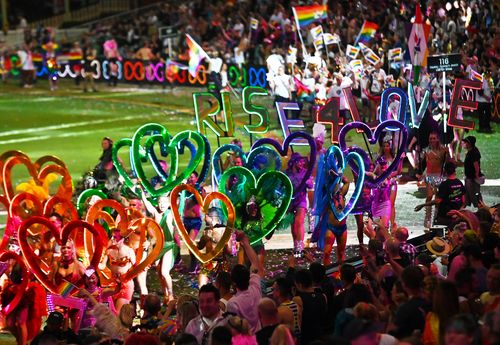 The colourful costumes and dazzling displays all incorporated this year's theme of 'Rise' — a "call to action that now is the time to rise again through love, compassion, respect and understanding. A poignant message following the challenge and hardship of 2020."
Closing out festivities for the evening's official celebrations was UK singer Rita Ora who performed a string of her biggest hits.
Sydney Gay and Lesbian Mardi Gras CEO Albert Kruger described this year's Mardi Gras inside the iconic sports stadium as "a once in a lifetime experience".
"Among the colourful costumes and beating music, the spirit of protest was as strong as it ever has been," Kruger said.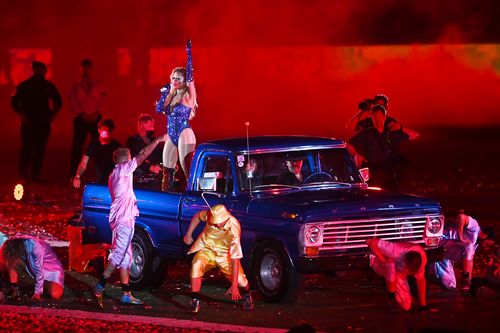 Commander of Operation Mardi Gras, Assistant Commissioner Gelina Talbot, thanked the community for "celebrating peacefully" during the altered annual event.
"We knew Mardi Gras was going to look very different in 2021, so I'd like to thank the community for coming together today and celebrating peacefully and safely," Assistant Commissioner Talbot said.
"We are in a unique position in Australia to be able to host events of this scale during a global health pandemic, and I commend the Sydney Gay and Lesbian Mardi Gras team for planning such a well-organised, COVID-safe event."
The day was not incident-free though, with four people arrested within the SCG just before 8pm, after they entered the pitch during the parade.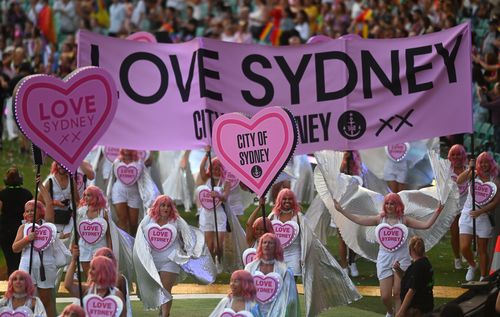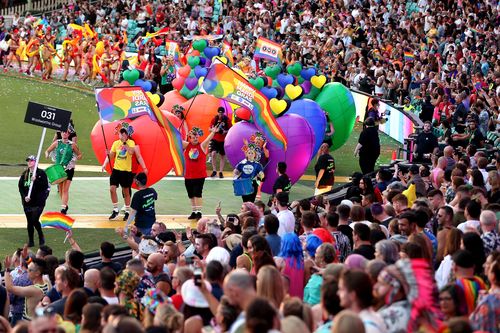 In addition to being removed from the premises, they were each slapped with a $165 fine for climb/jump over fences/seats etc on lands without approval.
"The main issue for police was preventing anti-social behaviour and ensuring COVID-19 safety protocols were maintained," Assistant Commissioner Talbot said.
"While I'm pleased the majority of those who attended and enjoyed the festivities celebrated responsibly, it is very disappointing one group decided to attempt to disrupt the parade."
Earlier in the day close to 600 protesters made their way down Sydney's Oxford Street this afternoon, marching for LGBTQI+ rights ahead of tonight's event at Moore Park.
The peaceful gathering, organised by activist group Pride in Protest, was granted an exemption yesterday from NSW Health
COVID-19
restrictions.
NSW Health granted the exemption to exceed the current cap of 500 people at protests after negotiations with event organisers to facilitate easier contact tracing at the event.
The group is marching for LGBTQI+ rights and is took the same route as protesters during the first 1978 Sydney Gay and Lesbian Mardi Gras.
While police withdrew an application to have the exemption denied, there is still a heavy presence of law enforcement ensuring things don't get out of hand at the protest.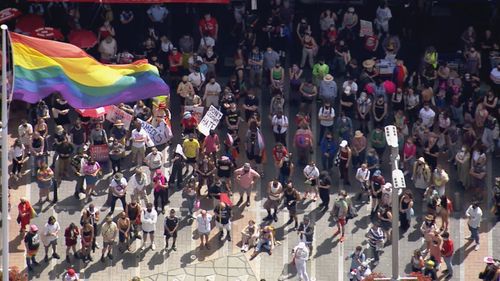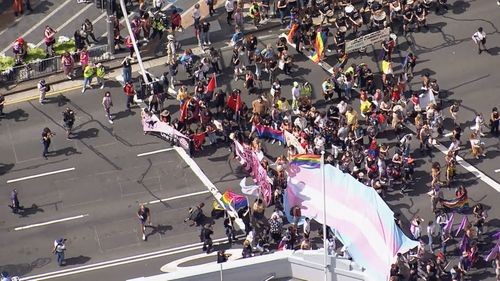 "Anyone found committing any social behaviour that is criminal, violence or offensive will be identified quickly and you will be removed," NSW Police Assistant Commissioner Gelina Talbot said.
"Our priority is the safety of the community coming out to celebrate Mardi Gras."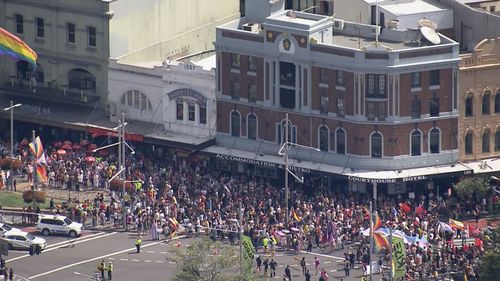 Due to current COVID-19 restrictions, this is the first year the Sydney Gay and Lesbian Mardi Gras will not have floats making their way down Oxford Street.


This content first appear on 9news