After the public health emergency ends on May 11, private health plans will no longer be required to cover the full cost of COVID-19 tests ordered or administered by a clinician or to reimburse consumers for at-home rapid tests.
To estimate what consumers might have to pay for tests, KFF's new analysis draws on claims data showing what private insurers have paid for different types of COVID-19 tests, as well as hospitals' published "self-pay" prices for patients without insurance and a survey of major retailers' prices for at-home COVID-19 tests. What consumers pay will depend on their insurance plan or whether they have insurance at all.
The analysis finds the median price of a COVID-19 test in an outpatient clinical setting was $45 among people with large employer-based health coverage in 2021, though prices varied widely. Generally, antigen testing was cheaper than PCR testing, with a median price of $42 for antigen testing compared to $62 for PCR testing. In addition to the cost of the COVID-19 test itself, there may be an additional charge for the associated office visit depending on cost sharing arrangements, which can average about $90 for people with private health insurance. Together, the price for a COVID-19 test in a clinical setting and the associated visit could go up to $150 if a deductible applies.
The median "self-pay" price for someone without health insurance at a hospital or outpatient setting is $51 for a COVID-19 antigen test and $91 for a PCR test. Prices for a COVID-19 PCR test at a hospital also vary widely by state and are most expensive in Alaska, with a median self-pay price of $200, and least expensive in Utah, with a median self-pay price of $41.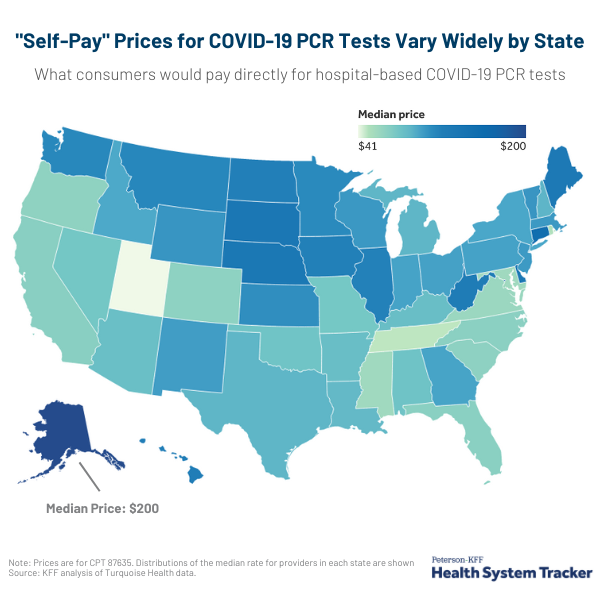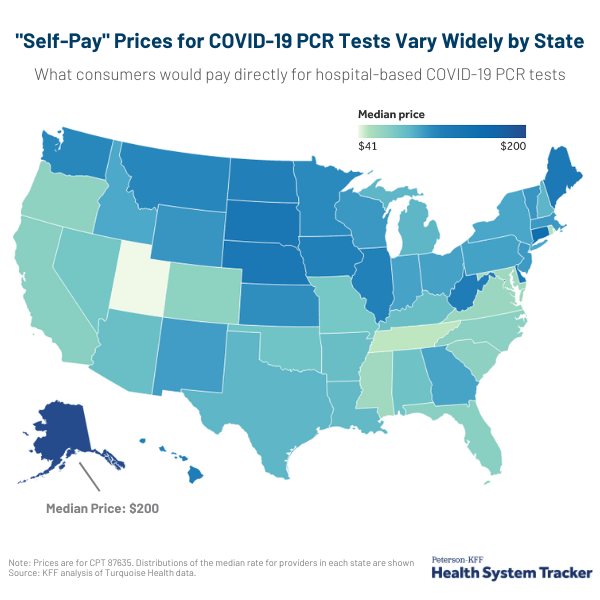 The analysis also finds that most at-home rapid tests cost between $12 and $24 per pack (the price per test averages $11). Private insurers will no longer be required to cover the cost of these tests once the public health emergency ends.