KFF has updated its 2021 Health Insurance Marketplace Calculator to reflect the expanded premium tax credits available to people who purchase their own coverage through their state's health insurance exchange as passed by Congress in the American Rescue Plan Act and expected to be signed into law soon.
The calculator allows users to enter their age, income, family size, and zip code to assess their eligibility for tax credits and how much they can expect to spend on premiums for coverage purchased through the Affordable Care Act's marketplaces. It reflects the actual cost of health plans in the region and the changes to how the tax credits are calculated under the legislation's provisions.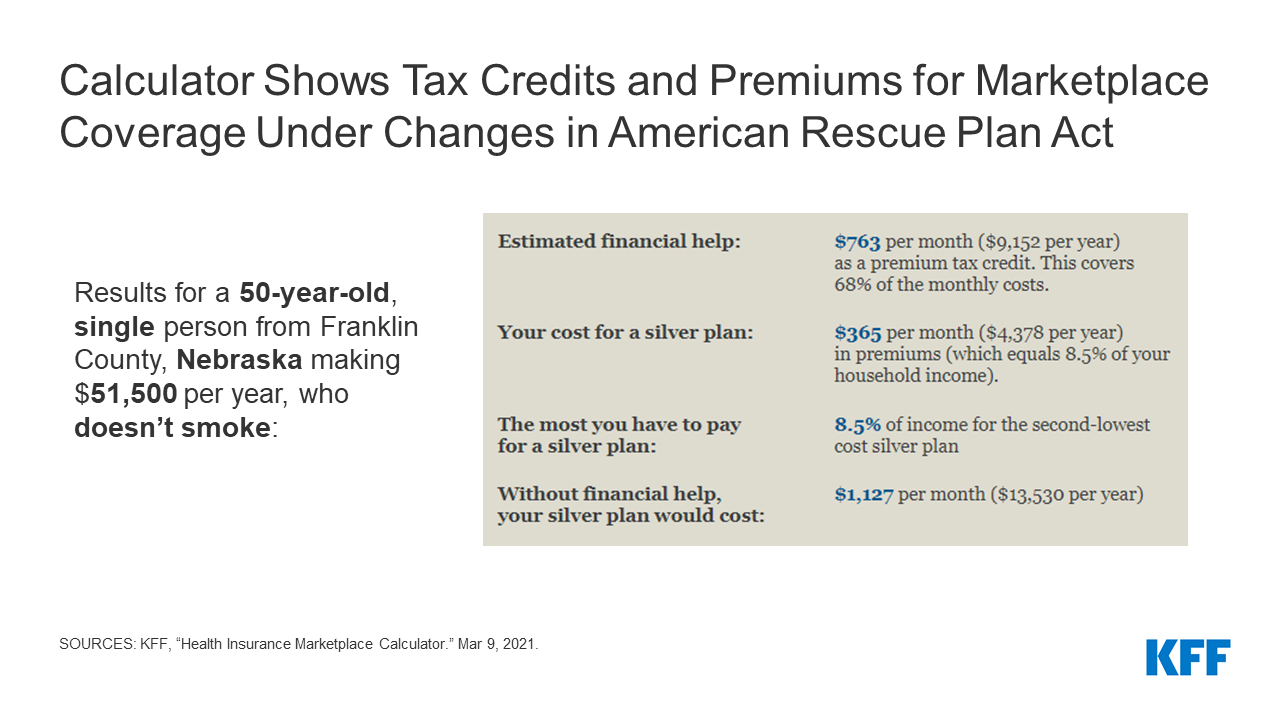 The American Rescue Plan Act increases the premium tax credits available both to people previously eligible and to those at higher incomes who had been ineligible before but face high premiums. The enhanced tax credits will expire after two years and are projected to increase federal deficits by $34.2 billion.
A previous KFF analysis found that the changes would result in premium savings for the vast majority of the nearly 14 million people already insured through the individual market, while millions of uninsured Americans would become eligible for new or bigger tax credits that could make marketplace coverage more affordable.
Those likely to see the biggest drop in what they pay in premiums include those who make just above 400% of the federal poverty rate ($51,040 for an individual), who were not previously eligible for tax credits and would have had to pay the full cost of coverage.
Some examples from the calculator:
A 50-year-old in Franklin County, Nebraska making $51,500 annually is newly eligible for tax credits under the legislation that would lower what they would pay in premiums for a benchmark plan from $1,127 per month to $365 per month.
A 50-year-old in Jefferson County, Oklahoma making $18,000 annually is now eligible for a benchmark plan with significant help to lower deductibles. Previously, they would have had to pay $54 per month for that plan, or enroll in a less generous plan with a large deductible for no premium.
HealthCare.gov, the federal health insurance marketplace serving 36 states, last month began a special enrollment period that runs through May 15. All state-based marketplaces also launched their own special enrollment periods, though the exact dates vary.